Wellby Financial Hosts Clear Creek ISD (CCISD) Families at Space Center Houston's Galaxy Lights December 1, 9, and 15
CCISD families can purchase sharply discounted tickets to this unique holiday experience for just $15.95 per person!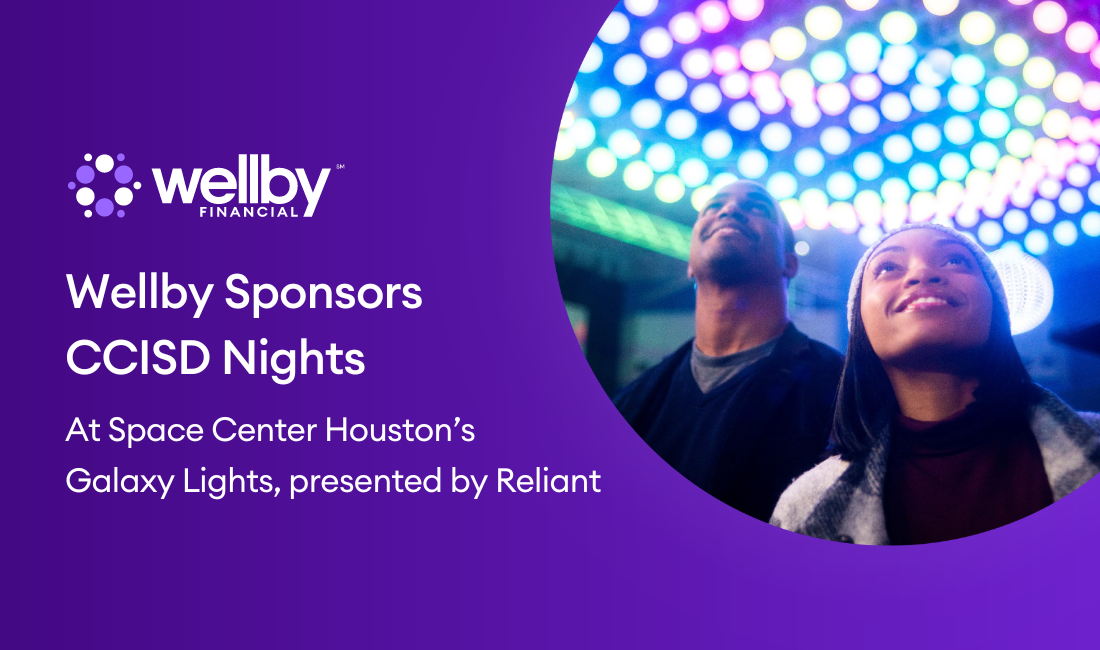 Wellby Financial is sponsoring three exciting CCISD Nights, at a significant discount for students, families, and staff at Space Center Houston's Galaxy Lights, presented by Reliant, on December 1, 9, and 15 from 6:00 – 10:00 p.m.
Purchase Tickets
​Discount code: WELLBYCCISD22
In honor of 60 years of service to the Clear Lake and space community, Wellby is hosting three nights celebrating CCISD at Space Center Houston's Galaxy Lights, the most interactive and technologically advanced light display in Texas. Wellby's CCISD Nights will include special activities for CCISD students, giveaways, and fun prizes! CCISD families can purchase tickets to this unique holiday experience for just $15.95 per person, up to a 43% discount, by clicking the link above or visiting the CCISD Nights at Galaxy Light Registration page and using the discount code: WELLBYCCISD22.
Wellby will also be creating several surprise community acts of kindness at Galaxy Lights, including grocery store gift card giveaways to help with food security during these times of high inflation, fulfilling CCISD teachers' mid-year school supply lists to help provide resources for our children's education, and donating funds toward CCISD families' electricity bills to lighten their financial burden and support their financial well-being. Finally, Wellby is proud to sponsor an entire CCISD elementary school's attendance of 750 students at this exciting event.
Visit the Wellby booth for fun surprises before strolling through a beautiful 200-foot LED light tunnel made of more than 250,000 lights synchronized to festive holiday music. New this year, Galaxy Lights includes a crystal fireworks display, one of only two in the entire world!
As a proud supporter of CCISD, Wellby is honored to provide this opportunity for CCISD families to gather and enjoy a fun night celebrating imagination and innovation.
Wellby was originally founded to serve the employees and families of NASA's Johnson Space Center. This legacy, deeply rooted in the space community and science, technology, engineering, and mathematics (STEM) education, is at the foundation of who Wellby is and how they serve the community. Fueled by their purpose of helping people prosper, Wellby is a proud supporter of CCISD and its mission to ignite learning for all through a spirit of exploration.
Wellby's partnership with CCISD includes sponsoring a new Wellby STEM Stars of the Game series, where the academic achievements of students participating in the district's STEM programs are highlighted as a tribute to our next generation of dreamers. The revenue generated from CCISD's advertising programs like these help offset operational costs and directly benefit educational programming.
Wellby's support of CCISD emphasizes the importance of science, technology, engineering, and math to encourage today's dreamers to become tomorrow's doers, just like the brave men and women of NASA.
Learn more about Wellby's unique legacy rooted in STEM education, their personalized products and services for your financial journey, and what the Wellby Difference is all about at wellbyfinancial.com.