Wellby Financial Donates $2,500 to Salvation Army of East Harris County
Funds will assist in cleanup efforts following tornados in Deer Park and Pasadena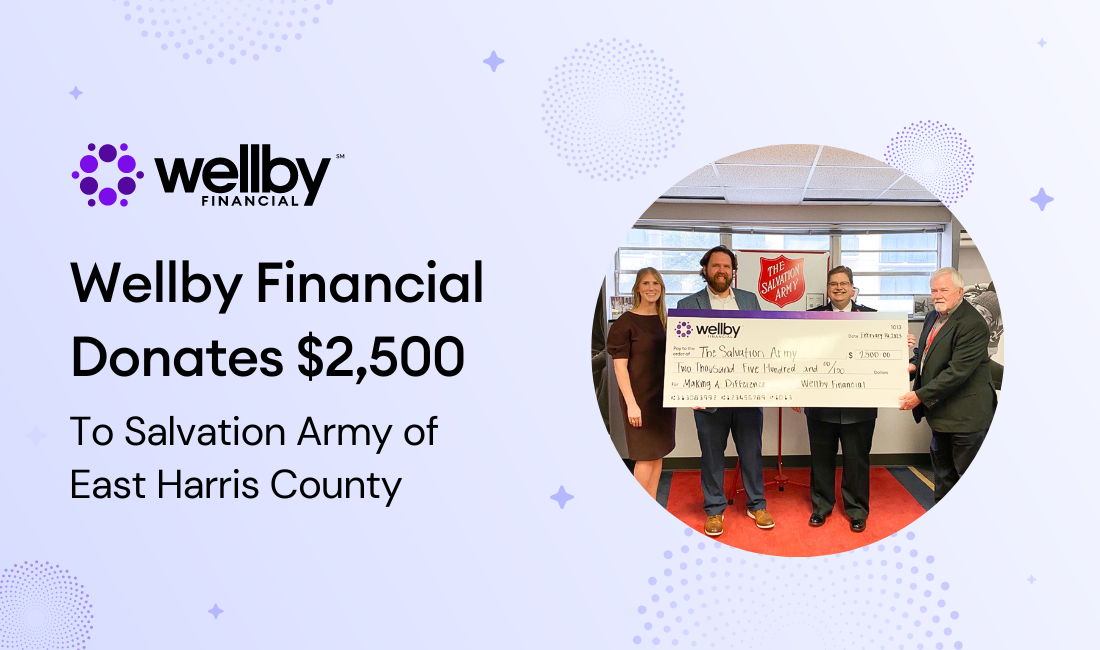 Wellby Financial donated $2,500 to the Salvation Army of East Harris County to help those affected by tornados that caused severe damage in the Pasadena and Deer Park communities. 
The Salvation Army of East Harris County was on the front lines distributing water, hot meals, and blankets to those impacted and displaced. The donation from Wellby Financial will be used toward cleanup and recovery efforts. ​ 
Wellby Financial leadership met with Rob Webb, Area Commander; and Alvin Massey, Senior Gift Manager, at The Salvation Army to present their donation. ​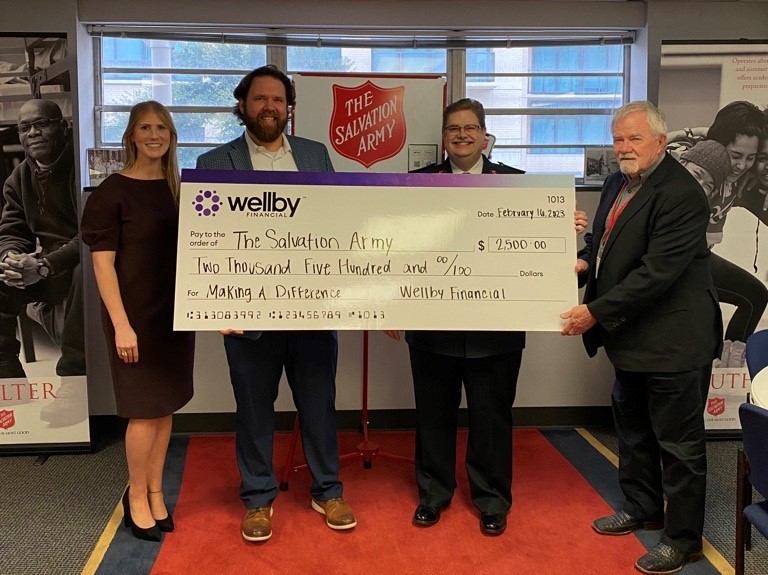 "We were saddened to learn how these devastating tornados affected our Wellby community and neighbors in Deer Park and Pasadena," stated Marty Pell, President & CEO of Wellby Financial. "We're proud to support the Salvation Army and hope this donation will help our community build a path from crisis to prosperity." 
The Salvation Army of East Harris County in Pasadena is part of The Salvation Army of Greater Houston network, which aims to meet human needs and describes its purpose as "a resource for countless families, youth, seniors, and the unsheltered through programs that focus on Life Navigation, Rehabilitation, and Youth Development. The Salvation Army provides aid to more than 50,000 individuals yearly at over 20 Houston area locations." 
Wellby's commitment to helping people prosper is at the heart of the organization. Over the past year, they have donated more than $60,000 by investing in the local community through partnerships with 2023 Houston Livestock Show & Rodeo™ scholarship program, Bay Area Turning Point, Bay Area Habitat for Humanity, and Clear Creek ISD. 
Wellby Financial's unique legacy dates back to 1961, when it was founded to serve the employees and families of NASA's Johnson Space Center. ​ 
Learn more about Wellby's purpose of helping people prosper through highly competitive rates, a personalized approach, and tailored solutions to help its members reach their goals. Learn what the Wellby Difference is all about at wellbyfinancial.com.