Wellby Financial Announces Partnership with Automatic Direct Deposit Provider, Atomic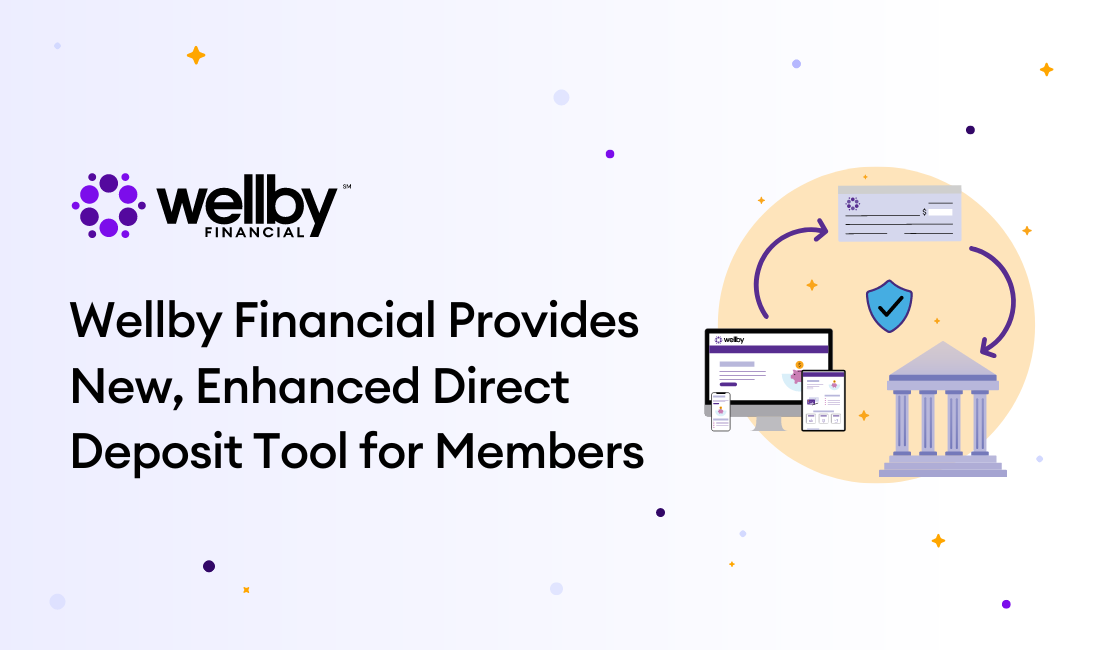 Wellby Financial recently announced a partnership with Atomic, an automatic direct deposit provider that allows members to switch their payroll deposit accounts and divide their paycheck among multiple accounts within minutes. This new tool will help members stay on track while building their path to prosperity, one paycheck at a time.
Wellby Financial is partnering with Atomic to make this process faster and easier while maintaining the highest standards for safety and security.
"We're here to help our members prosper," said Marty Pell, President & CEO of Wellby Financial. "That includes offering the best tools and systems available to help reduce the stress involved with managing finances. Atomic allows users to easily adjust the distribution of their paychecks to stay on track, building toward financial prosperity. Utilizing this tool also strengthens and deepens our members' relationship with Wellby, which equates to richer member benefits. We're here to provide the right resources to help manage your financial journey a little easier, so you can focus on building your unique path to prosperity."
Learn more about Wellby's new Atomic tool by reading their recent blog article!
"We are thrilled to join forces with Wellby Financial, enabling them to provide an even higher-quality digital experience for their valued members. Direct deposit switching puts the consumer back in control of their paycheck, allowing them to determine where they want their money deposited without waiting for the traditional paper system," said Jordan Wright, Co-founder and CEO at Atomic.
With this new secure and automated process, Wellby members can set up their direct deposit in a matter of minutes directly from their Wellby Mobile App or by logging in to the Wellby online banking portal on their computer.
In a few short steps, members can connect an employer's payroll provider directly to their Wellby account and use direct deposit to divide their paychecks into several different accounts. This digital experience allows Wellby Financial members to remain in control of where their paycheck is deposited without additional burdensome paperwork, helping members stay on track as they build their path to financial prosperity.
To learn more about Wellby's tools, products, and services and how they can help you build financial well-being, visit their website at wellbyfinancial.com.
---
About Wellby Financial
Wellby Financial is a member-owned, not-for-profit financial cooperative proudly serving the Greater Houston Metro area. Wellby was originally established in 1961 to serve the employees and families of Johnson Space Center. We have grown into one of the largest credit unions in Houston, serving more than 127,000 members with 21 branch locations and more than $2.5 billion in assets. As a people-first organization, Wellby is open to all who live, work, worship, or attend school in the Greater Houston Metro or Galveston area. For more information, visit wellbyfinancial.com. Federally insured by NCUA. Equal Housing Lender. Equal Opportunity Employer.
About Atomic
Atomic is the market-leading provider of payroll connectivity, trusted by over 160 financial institutions, fintech firms, and partners, including 13 of the largest fintech apps, as well as financial firms offering digital-first neobanks, alternative lending, crypto exchanges, and digital brokerages.
Atomic provides the infrastructure to connect consumers to their financial data, automate set-up and updates to direct deposits, digitize income and employment verifications (VOI/VOE), repay financial obligations from their paycheck, access earned but unpaid wages, and tap tax filing advantages, as well as benefits and insurance connectivity through its EmployerLink solutions. Atomic's suite of API solutions simplifies complicated payroll and human resource platform integrations that cover over 480 unique payroll connections, including incumbent payroll providers, bespoke enterprise solutions, modern HR tech providers, gig-economy platforms, and government systems.
Atomic is ranked by CB Insights as a Fintech 250, selected by Fintech Breakthrough Awards as a Best Banking Transaction Solution, and is recognized as a Top Work Places 2022. Atomic has raised $78.6 million from investors, including Greylock, Mercato Partners, Core Innovation Capital, Portage, and ATX Venture Partners. For more insights on the intersection of fintech and payroll, you can subscribe to Atomic's Intelligence newsletter.