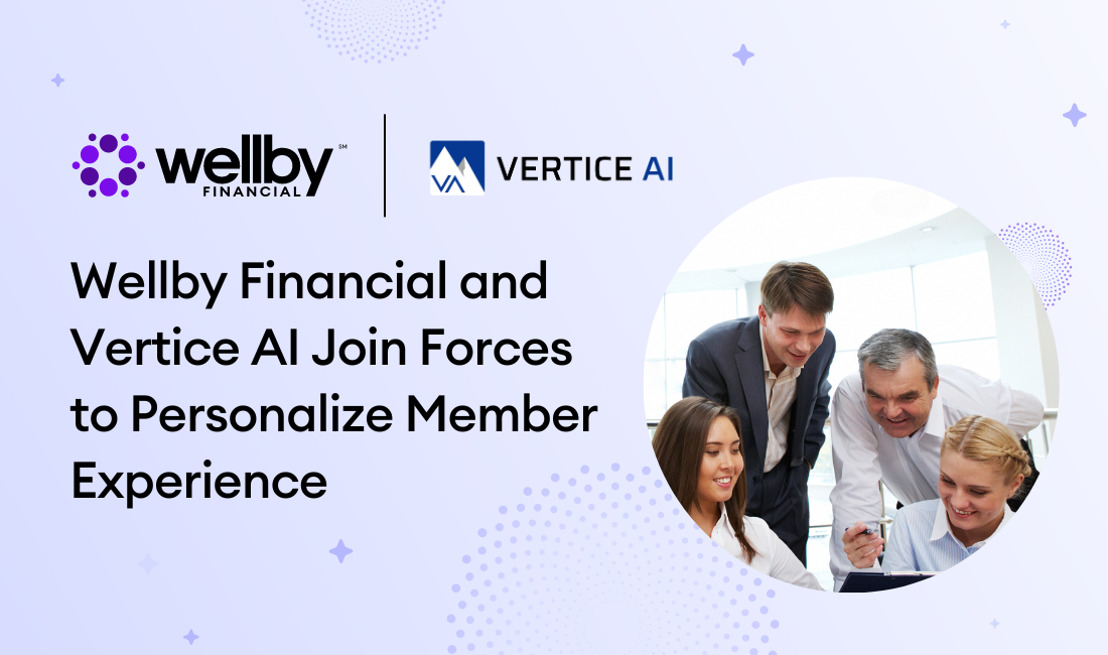 Wellby Financial and Vertice AI Join Forces to Help Members Prosper with Cutting-Edge Predictive Analytics
Wellby Financial is partnering with Vertice AI, a leading provider of AI-driven member growth solutions, to transform and personalize member engagement. This change will also enhance membership overall economic participation, a cooperative principle of the credit union movement.
Wellby Financial has long been committed to providing personalized financial solutions to its members, offering a comprehensive range of products and services to help their members prosper. The Vertice AI solution will enhance this member-focused experience by empowering Wellby to understand, grow, and evaluate member needs. For example, analyzing key data would allow Wellby to better understand members' unique financial journeys. Based on this, Wellby might proactively reach out to a member to discuss whether a personalized HELOC might be the right solution to help them pay off their high-interest debt.
With the ability to develop tailored member engagement strategies, offer targeted financial advice, and present customized solutions for every member's financial journey, Wellby Financial is poised to foster a proactive and inclusive financial environment for members.
Marty Pell, President & CEO of Wellby Financial, remarked, "Our purpose is to help people prosper, and our partnership with Vertice AI will strengthen our ability to do just that. By harnessing the power of predictive analytics, we can provide our members with more personalized advice for their unique financial journeys, truly helping our members and our community prosper."
Vertice AI's platform employs machine learning algorithms to analyze an array of member data, encompassing transactional history, account information, and other pertinent financial data. This leads to predictive insights, allowing Wellby to foresee member needs and extend targeted financial products and services that support their members in reaching and maintaining financial prosperity.
This partnership highlights a significant milestone for both Wellby and Vertice AI. Leveraging data-driven insights will allow Wellby to serve their members more effectively and strengthen their position in an increasingly competitive market.
| | |
| --- | --- |
| Wellby Financial is a member-owned, not-for-profit financial cooperative proudly serving the Greater Houston Metro area. Wellby was originally established in 1961 to serve the employees and families of Johnson Space Center. We have grown into one of the largest credit unions in Houston, serving more than 128,500 members with 21 branch locations and more than $2.6 billion in assets. As a people-first organization, Wellby is open to all who live, work, worship, or attend school in the Greater Houston Metro or Galveston area. For more information, visit wellbyfinancial.com. Federally insured by NCUA. Equal Housing Lender. Equal Opportunity Employer. | Vertice AI is a leading provider of member growth solutions leveraging predictive analytics to help organizations harness the power of data to drive smarter business decisions. With a focus on machine learning and AI, the company's solution delivers predictive insights that enable organizations to make data-driven decisions and optimize business outcomes. ​ For more information, visit www.verticeanalytics.ai and follow Vertice AI on LinkedIn. |